Casa del Saraceno Via Campanella, 11
Massa Lubrense
In the Middle Ages
A legend tells that the night of June, 13th 1558 Saracen pirates began to ravage the towns of Sorrento and Massa Lubrense, plundering houses and churches among which Sant'Antonino Basilica from where they stole the melodious bell, and then sailed…
However, when the admiral reached Punta Campanella the ship suddenly stopped and only when the pirates decided to throw in the sea part of the booty and the bell, the ship departed again reaching the rest of the fleet. From that day, every year for the Feast of Saint Antonino, people go to Punta Campanella to hear the chimes of the blessed bell that rings under the sea.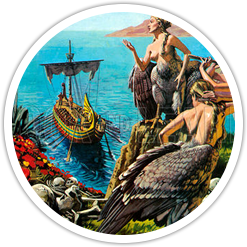 In ancient times
"The story tells that Ulysses, after leaving Circe, met the Sirens near Punta Campanella (hence the name Sorrento) and erected a temple to Athena, protector of the sailors. The Sirens were so disappointed they could not conquer Ulysses that dive into the sea and their bodies were turned into three rocks corresponding to Sirenuse, today called Li Galli…" And right there overlooking the Gulf of Salerno there is Casa del Saraceno, surrounded by greenery.
How to Reach Us
From the railway station
From the Naples Garibaldi station follow the indoor directions to the entrance of the "Circumvesuviana", the train that goes along the coast of the Gulf of Naples up to Sorrento. There are several lines, take the one that has Sorrento as terminus. It takes about an hour. From Sorrento station take a bus direction Massa Lubrense / Termini or take a taxi.
From Naples airport
Once you exit the Naples Capodichino Airport take the "Curreri" bus that departures near the entrance of the airport and paying about 10 Euros per person you can reach Sorrento. Otherwise you can take a taxi or reach the Naples Garibaldi train station and take the Circumvesuviana train from there, direction Sorrento.
From the highway by car
Coming from A1 Milan – Naples highway, take the A3 direction Salerno. Take the exit "Castellammare di Stabia" on your right and follow the "Penisola Sorrentina" signs. Once you arrive in Sorrento, continue towards Massa Lubrense up to the hamlet called Termini.